Edward W. Ryan 1972 - 1980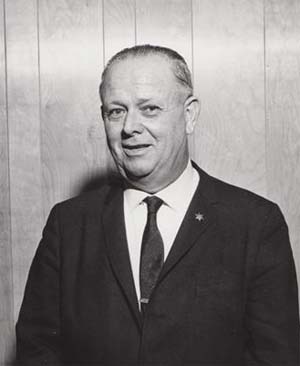 Edward Ryan, the 23rd circuit clerk of Sangamon County, was born in Springfield, IL to Daniel and Kate Walsh Ryan. In 1930, Ryan wed Evelyn Cline; the union resulted in 4 children and later, 17 grandchildren. Ryan was a devoted and hardworking member of the Springfield Police Department from 1942-1965, where he held the position of Assistant Chief of Police. Ryan was elected Sangamon County Sheriff in 1966 and served in this position until 1970.
In 1972, Ryan was elected as circuit clerk, an occupation he filled for the next 8 years. Active in the community, Ryan was a member of the Blessed Sacrament Church, KC Council 364, the Lions Club, the Police Benevolent Association, and the Fraternal Order of the Police.
While with the Springfield Police Department, Ryan served as patrolman, uniformed desk sergeant, patrol sergeant, detective, lieutenant of detectives, chief of detectives, and assistant chief of police.
Ryan's time as Sangamon County Sheriff brought along a few changes, two of which being the addition of a Sheriff's Posse and a Sheriff's Patrol. The posse consisted of nine mounted men working on horseback to help preserve the law. The Sheriff's Patrol was in charge of covering 850 square miles of area and included 24 deputies. These two additions were for volunteers only and were a great help to the Sheriff at no expense to tax-payers.
The Springfield Sun, July 9, 1967. Accessed August 10, 2011. Sangamon Valley Collection, Lincoln Library. Vertical Files, Ryan.
Savannah Little researcher
The Circuit Clerk Lookup System may be
unavailable periodically for maintenance.

All fees collected by the Circuit Clerk are mandated by law.

Main Phone
217 753-6674

circuitclerk@co.sangamon.il.us

The Circuit Clerk Lookup System may be
unavailable periodically for maintenance.

All fees collected by the Circuit Clerk are mandated by law.

Main Phone
217 753-6674
Contact Us by Email
circuitclerk@sangamonil.gov